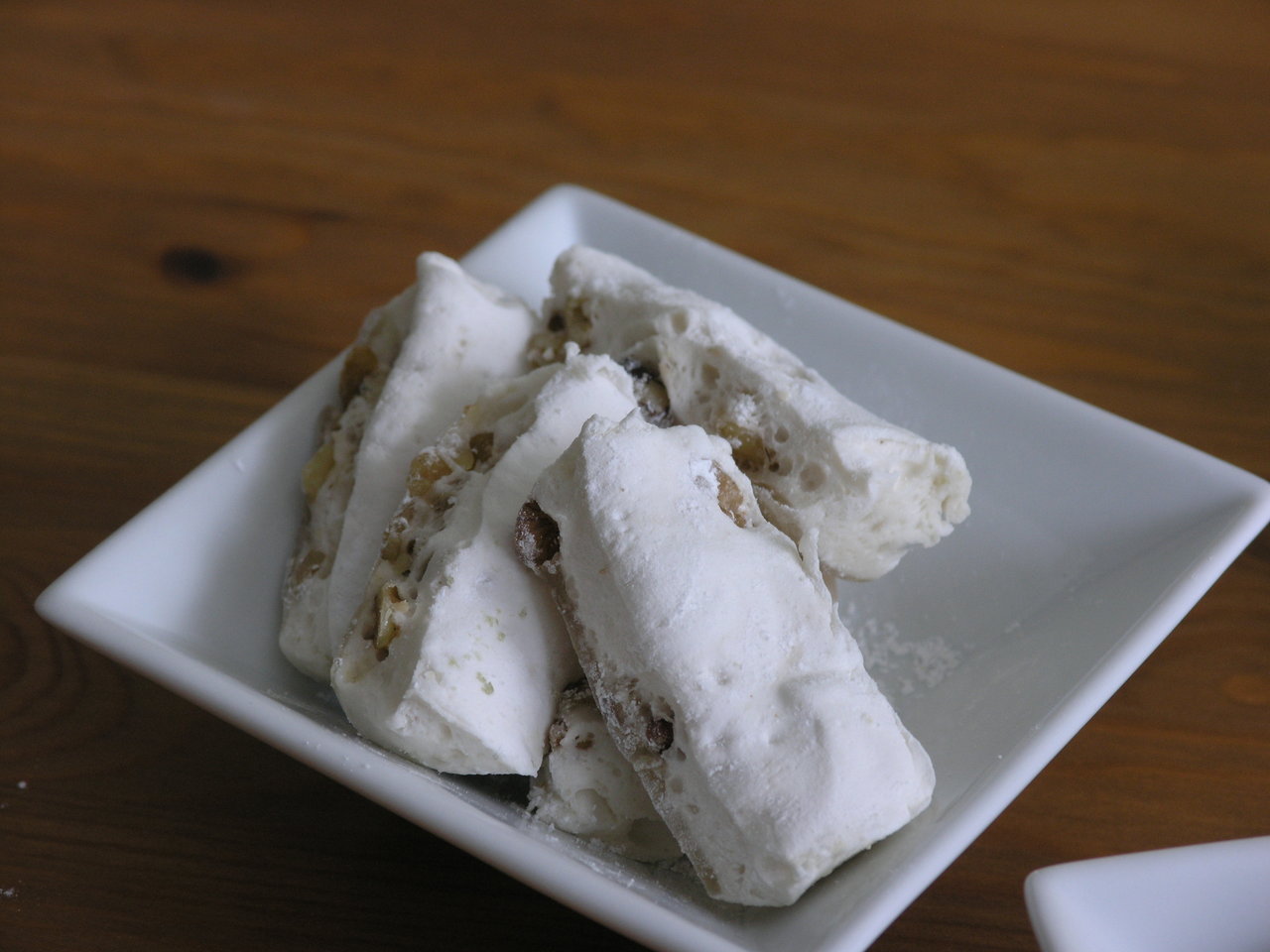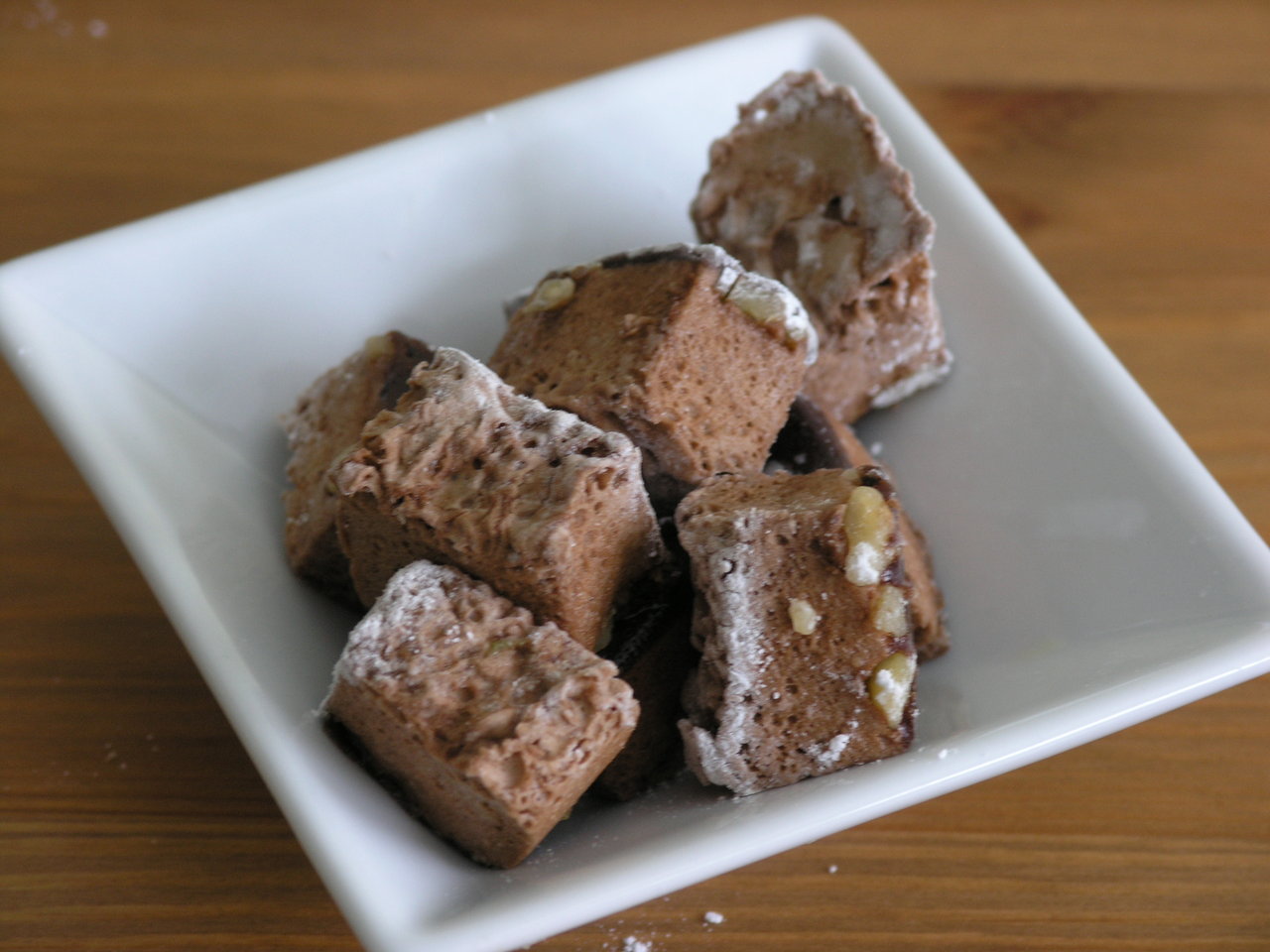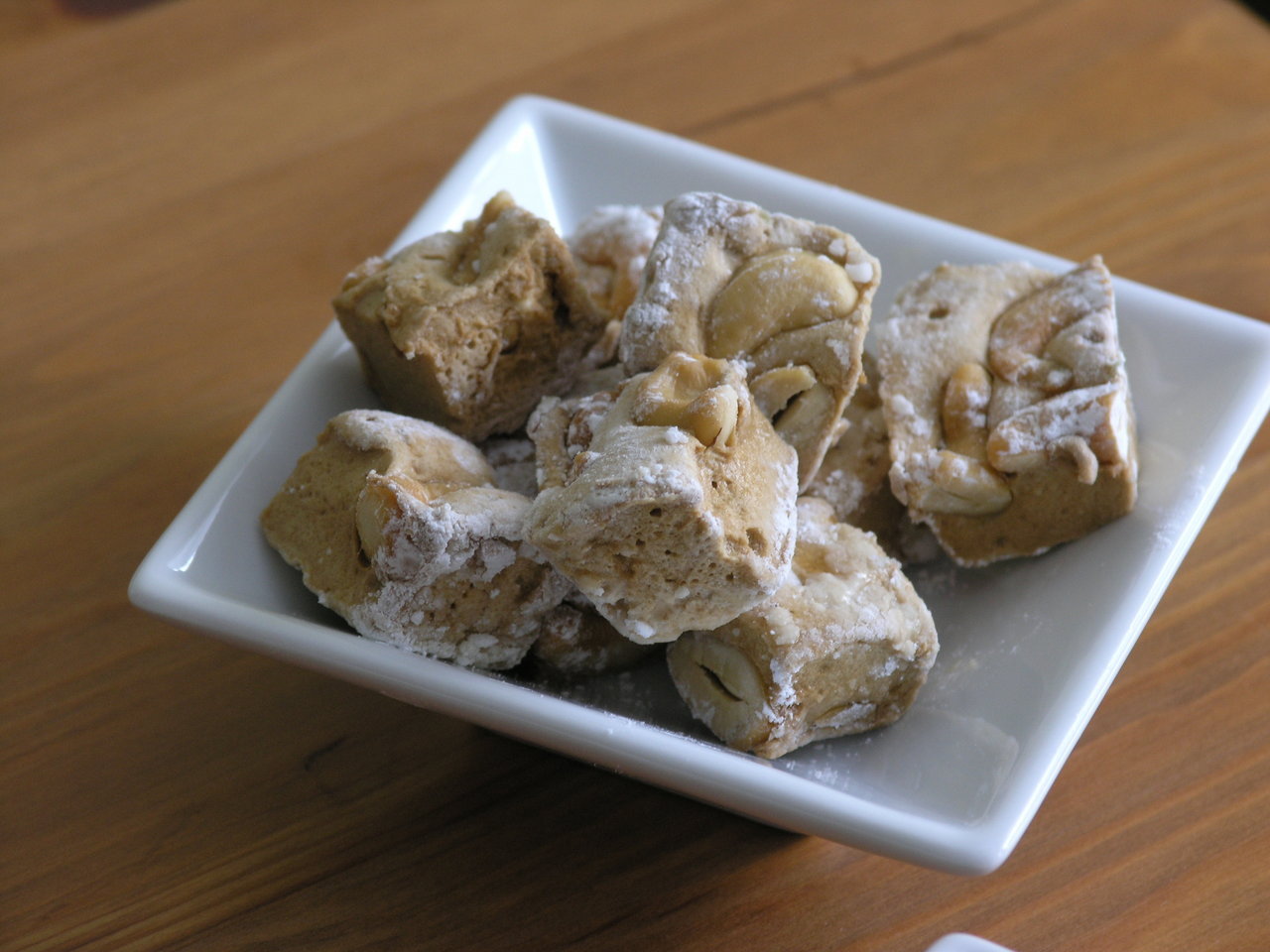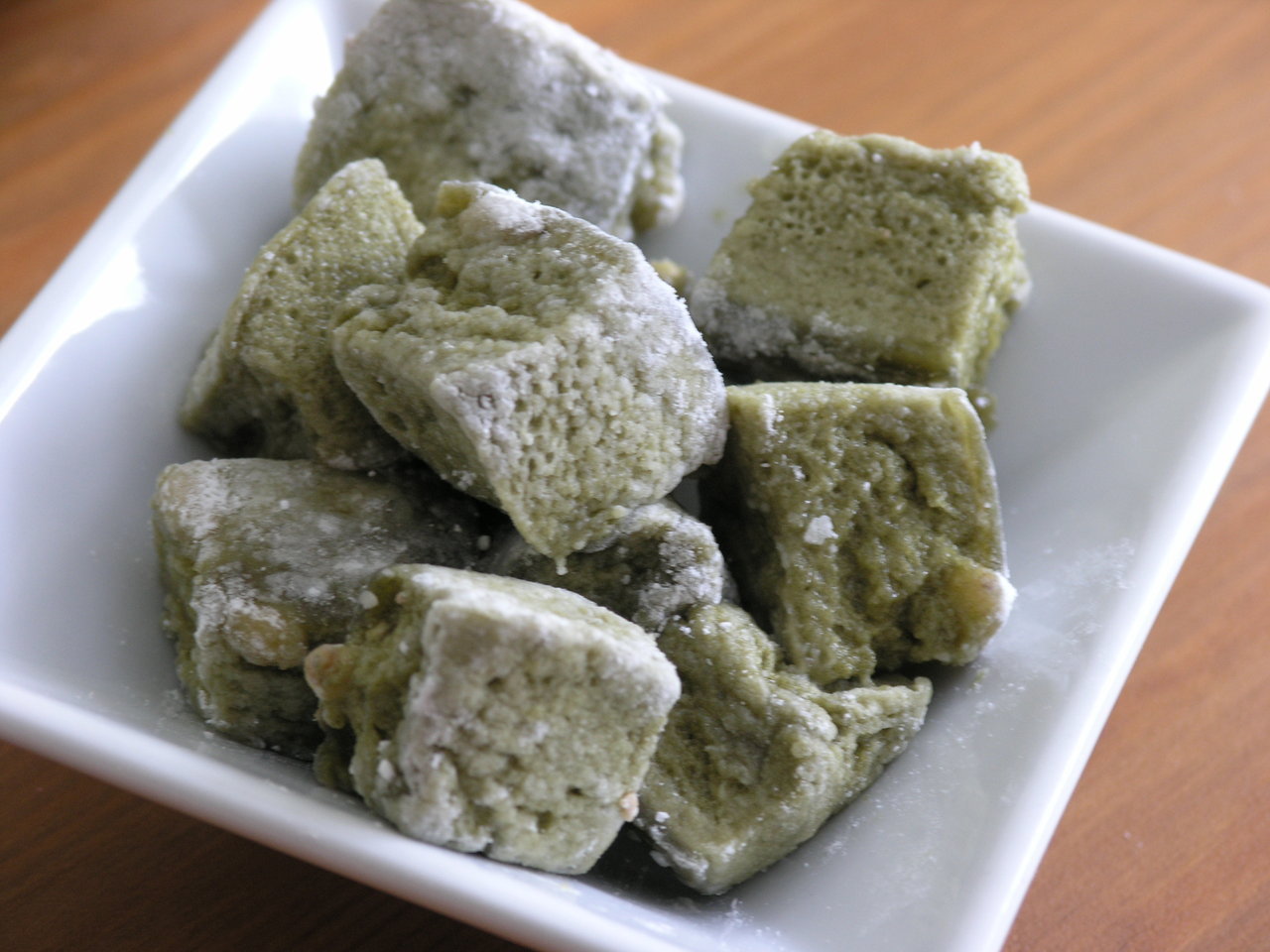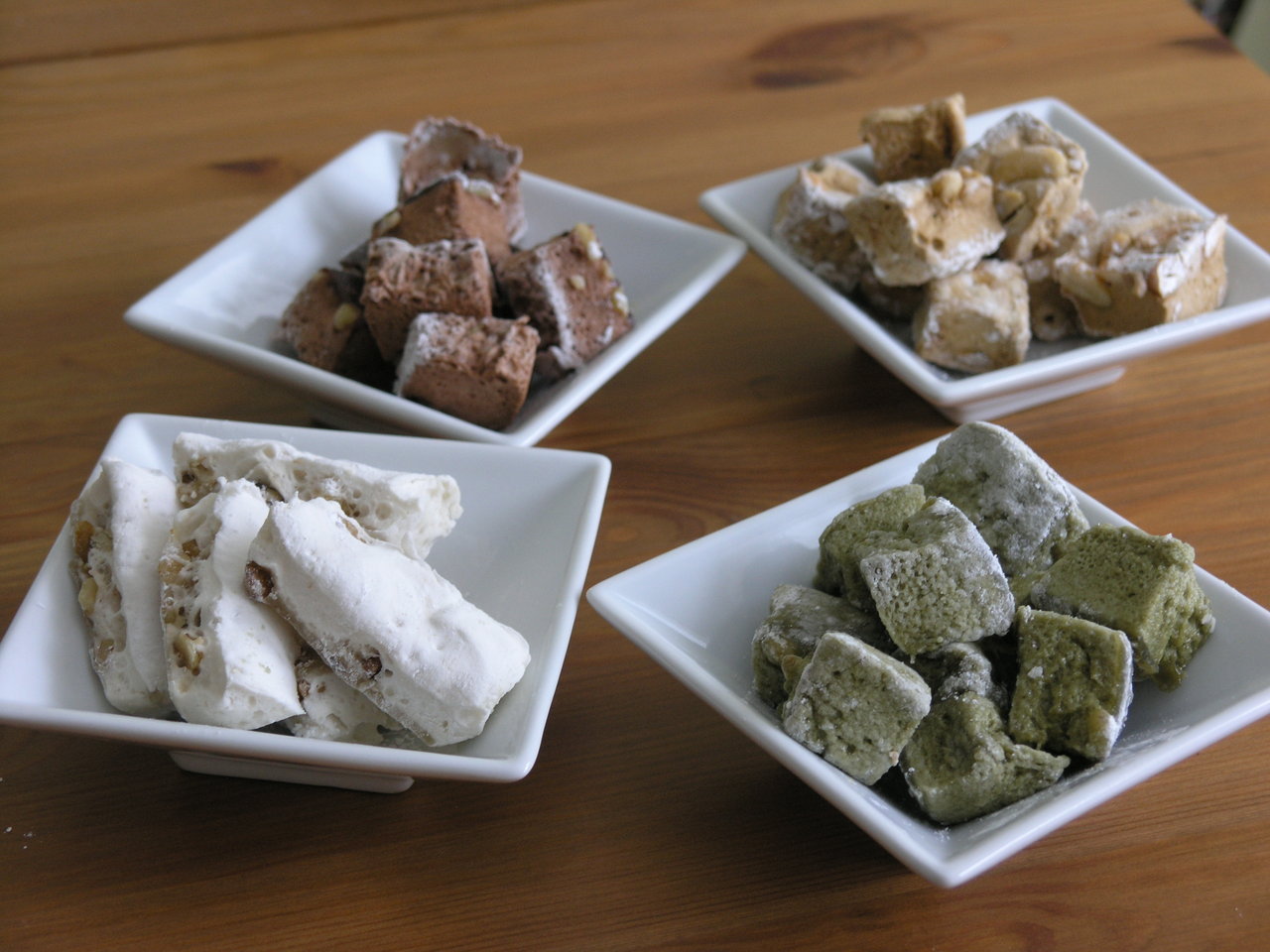 有陣子很流行俄羅斯軟糖,聽人說多好吃又多好吃.心動了也來做一點試試味道.
其實就是棉花糖加核桃,我愛變花樣,隨手看廚房裡有啥食材拿來亂添加.
一不做,二不休,做了四種口味:原味胡桃,巧克力杏仁,抹茶松子,咖啡腰果.
試吃結果,那還用說:老公愛吃巧克力的,我愛吃抹茶的,公公婆婆愛吃咖啡腰果的,原味核桃是大家都能接受的口味.
其實很多食物我都只吃過自己做的,沒吃過外面賣的.這款俄羅斯軟糖我是依樣畫葫蘆,閉門造車,壓根兒不知道別人的俄羅斯軟糖是什麼味道.不過,我自己高興,我家人喜歡,就好.
附上網路上找到的原食譜:
Marshmallows Recipe
2 1/2 T. gelatin
1 1/2 C. sugar
1 C. light corn syrup
1/2 C. cold water
1/2 C. water at room temperature
1/4 t. salt
2 T. vanilla extract
Cornstarch for dusting
Combine Gel and 1/2 C.COLD water in the bowl of a mixer with a whisk attachment. Let stand for 1/2 hour.
Mix the sugar, corn syrup, salt, and 1/2 C. water in a saucepan. Stir it over low heat until the sugar is dissolved and a syrup has formed.
Cook it until firmball stage (about 120 C. on a candy thermometer.) Remove pan from heat, and slowly and carefully pour the syrup into the gelatin/water mixture in your mixer. Beat the mixture at high speed until thick, white, and tripled in size, approximately 15 minutes. (If you stop before this time, you will have marshmallow cream which you can store in a jar and use like the commercial stuff.) Add the vanilla and beat just long enough to incorporate it.
Dust an 8" x 12" (20 cm x 30 cm) glass baking pan with cornstarch. Pour mixture into pan, and dust the top with more corn starch. Wet your hands and pat the mixture to smooth out the top. Dust again.
Let stand overnight to dry out, uncovered. Next morning turn the "marshmallow cake" out onto a board, and cut in into small pieces with a dry, HOT knife. Dust again. Makes about 45 marshmallows.